We are super excited to have Andrea Berman Price, author of
Knitspeak An A-Z Guide to the Language of Knitting Patterns
is joining us!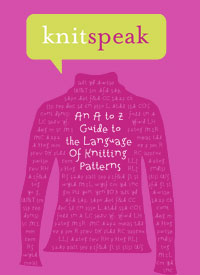 Knitspeak aims to demystify pattern language and to give knitters
the confidence to take on new projects. It is designed for
quick reference and sized to fit in every knitting bag. And it has a ruler on the back!!
Don't be fooled by the cover, this is a serious reference book.
Andrea will sign and sell books. More information can be found at
www.knitspeak.com
, see Andrea's projects at
Ravelry
, name: AndreaPrice